For decades, American cooks relegated sprigs of parsley to throwaway garnishes on the sides of sad-looking dinner plates.
More recently, herb-savvy cooks have recognized parsley's clean, fresh flavor—an essential ingredient in dishes like Gremolata-Crusted Fish Fillets, Orange-Parsley Hummus and Braised Mushrooms with Herbs.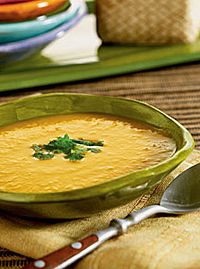 Cilantro, often called Chinese parsley, adds a distinctive flavor to Thai and Latin American cuisine, and I encourage you to experiment with easy recipes like Tequila-Lime Corn & Bean Salad, Thai Roasted Squash Soup (right) and Garlic Snow Peas with Cilantro.
Read More:
Green Showdown: Parsley vs. Cilantro